Click above to Go Back to Front Page
Join the Bilston Online Email Group/Mailing List and become part of the discussion.
Click Here to Join
We want our bit of history back, say Bilston families
BILSTON residents are gathering signatures in a campaign to get their Civic Regalia restored to what they see as its rightful home after 44 years.
Local MP Pat McFadden has backed the campaign and Professor Carl Chinn has also championed the Bilston cause.
In 1966 Bilston was effectively swallowed up by Wolverhampton as it became under the authority of the Wolverhampton Council. Part of this amalgamation meant that the Bilston Civic Regalia and historic enamels found themse1ves housed in the Civic Centre.
Due to the regalia only being displayed to the public on occasion, members of the community and Pat McFadden feel Bilston would be a better home, where the historic items can be put on permanent display.
Wolverharnpton South East MP, Pat McFadden has been approached by the Bilston community including members of the
Black Country Memories Club
who will be handing over their petition to him tomorrow (Friday August 27 2010) which he will then pass on to the Wolverhampton Council.
MP Pat McFadden said: "The regalia are part of Bilston's history and would be much more appreciated in Bilston instead of Wolverhampton Civic Centre."
Hundreds battle to bring back regalia
HUNDREDS of people have joined forces to fight for historic mayoral regalia and enamels created in Bilston to be returned back to the town.

More than 500 people have signed a petition, which they have now presented to MP Pat McFadden outside Bilston Town Hall. The campaign is being spear-headed bv community stalwarts Eileen Ward-Birch and Megan Fitzgerald-Plummer, who want to see the return of the town's regalia which contains a collection of mayoral chains and badges. . They also want items of Bilston Enamel returned to the town's craft gallery.

The enamel, including trinket boxes, ornaments and candle sticks, is currently being kept at Bantock House Museum while the town regalia is on display at the civic centre in Wolverhampton.

Bilston and Battersea Enamels produced hand-decorated enamel boxes for 40 years, with Margaret Thatcher among its high profile customers. The company in Etruria Way was closed by parent company Enesco in April this year. Mrs Ward Birch, secretary of Wolverhampton Pensioner's Convention, said: "It started off as a discussion but then we realised we really wanted the regalia and Bilston Enamel returned to the town. Tourism "It was taken away from us a number of years ago.

The regalia is in the mayor's parlour in Wolverhampton which isn't easily accessible and Bantock House is hard to get to if you don't drive." Mrs Ward Birch said the return of the town regalia and enamel could bring some pride back to Bilston. lilt's part of our heritage," she said. "It might bring some pride back into the town which is better known for murders recently. "It might even bring in some tourism you never know. This town has a lot of history." After accepting the petition, Wolverhampton South East MP Pat McFadden, said: "Bilston still has a very strong identity of its own and a pow-erful sense of local pride. "I fully support this campaign, and the decision to return the regalia will allow local people to see them regularly and enjoy part of their town's history, tradition and beauty."

Following a long campaign a petition was handed over to Pat McFadden MP on Friday August 27th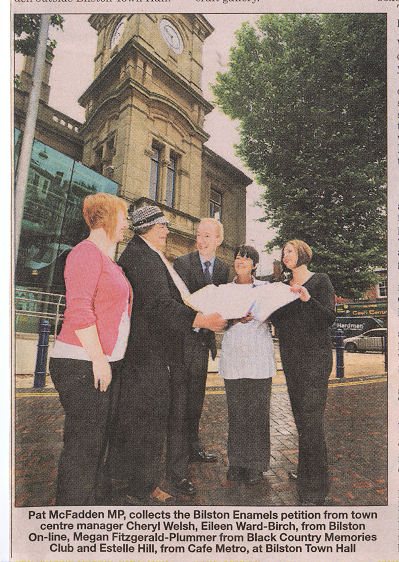 Reproduced by kind permission of The Express And Star
Click on the images below to see larger versions Official photographs of the Petition handover, hover on a picture to see a full size version. The pictures kindly supplied by Pirandeep Dhillon Constituency Assistant to Rt Hon Pat McFadden MP These pictures are copyright and must not be downloaded or reproduced.
Eileen Ward Birch, Cheryl Welch
and Megan Fitzgerald Plummer
Eileen Ward Birch, Cheryl Welch
and Megan Fitzgerald Plummer
Handing The Petition over to
Pat McFadden MP


.